INTERACT is related to being involved directly in the on-going process. Focusing on our everyday life, the actions are related to following mostly routine standards. By breaking these standards, a new interrelation with the familiar environment can bring about: to observe what is happening, to place our own values on it and improve a solution. For this project, I was invited by Österängens Konstall to create an urban walk as a part of the cultural program of SKÅDERIER that was arranged by Skådebanan, a Swedish national organization whose purpose is to promote the access to art and culture to everyone. The program was located in the central parts of the city on 27-28 May, at the same time and location as JÖNKÖPINGS MARKNAD, an annual commercial event. Both events ran on two parallel pedestrian streets: Smedjegatan and Östra Storgatan.
On Smedjegatan, a street lined with wooden two-story houses, the majority of the local cultural associations included within SKÅDERIER's program activated empty retail spaces and transformed them into temporary venues open to the public: amateur opera, improvisation theater, circus show, poetry festival, film programme, art activities for kids… While on Östra Storgatan, a modern buildings street where are located commercial franchises (H&M, Clash Ohlson, Naturkompaniet, Espresso House…), the shops transformed the street into a flea market with trading stalls, music concerts and cotton candy scent.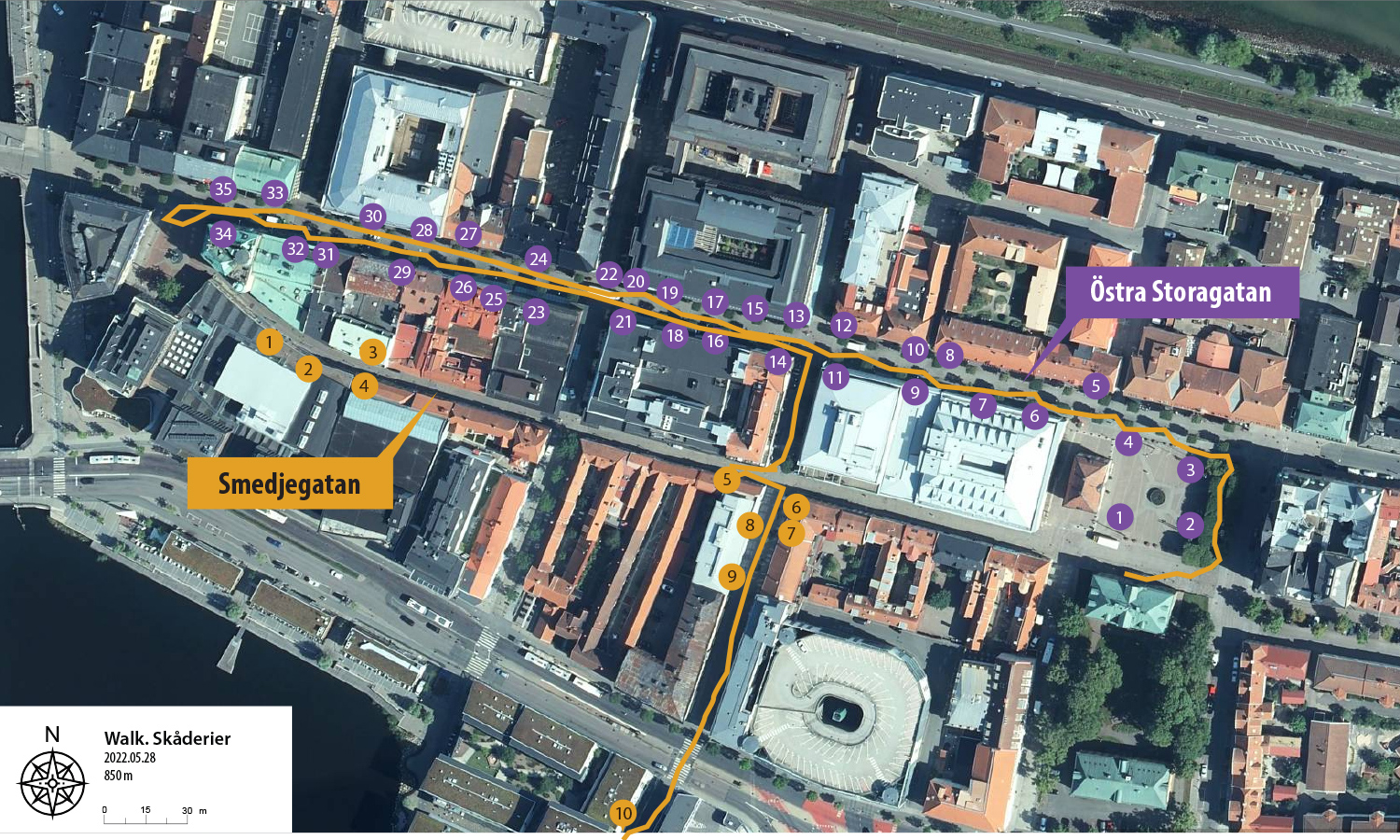 CULTURE

Smedjegatan

TRADE

Östra Storgatan

1. Jönköpings Litteraturhus (Smedjegatan 4)
2. Studio Silk (Smedjegatan 6)
3. TEATERi (Smedjegatan 7)
4. Internationell Poesifetival Jönköping (Smedjegatan 14)
5. Österängens Konsthall (Smedjegatan 30B)
6. Miniopera (Lantmätargränd 11)
7. Konstnärsföreningen Dymlingen (Lantmätargränd 11)
8. Sharemusic % Performing Arts (Lantmätargränd 12)
9. Teater Tabberas (Lantmätargränd 20)
10. Jonk! Scenkonst (Lantmätargränd 44)

1. Concerts
2. Bar
3. Bar
4. Strawberries stall
5. Robert Lindqvist (Östra Storagatan 29)
6. Cervera (Östra Storagatan 34)
7. Nordic Wellness (Östra Storagatan 34)
8. Boutique LYkka (Östra Storagatan 25-27)
9. KIKCS(Östra Storagatan 34)
10. Golden Athlete Butik (Östra Storagatan 23)
11. Ur&Penn (Östra Storagatan 19)
12. MQ market (Östra Storagatan 21)
13. Normal (Östra Storagatan 19B)
14. Espresso House (Östra Storagatan 32)
15. Clas Ohlson (Östra Storagatan 17)
16. Akademibokhandeln (Östra Storagatan 28A)
17. KappAhl (Östra Storagatan 27)
18. Dressmann (Östra Storagatan 28)
19. Jeansshopen No 1 (Lantmätargränd 6)
20. Lindex (Östra Storagatan 15A)
21. Naturkompaniet (Östra Storagatan 24)
22. Strawberries stall
23. Lagerhaus (Östra Storagatan 20)
24. Riruals (Östra Storagatan 13A)
25. Pinchos (Östra Storagatan 28)
26. Indiska (Östra Storagatan 16)
27. Accent (Östra Storagatan 11)
28. H&M Home (Östra Storagatan 7-9)
29. Smycka Guld (Östra Storagatan 12)
30. Forum Apple Premium (Östra Storagatan 7)
31. Twilfit (Östra Storagatan 8)
32. Granit (Östra Storagatan 8)
33. Moderna Smycken (Östra Storagatan 5)
34. Optiker Jhane (Östra Storagatan 6)
35. Escape House (Östra Storagatan 3)

In this context, I interpreted the urban public space as a contested site. In one street, culture was promoted by local people and art institutions. While in the other, consumerism showed up arranged by big trade names. For me, both streets became a reflection of our time: visitors were more concerned about commercial consumption. The number of visitors interested in the culture program was far lower, even though the activities were free and suitable for all audiences. So, the 'cultural' street was calmer than the 'trading' one that was full of people.
I don't deny my consumer practices but, at that point, I understood that culture was losing its social influence in the public space. As an invited artist to the culture program, I wanted to swing the balance in favor of culture. After a close inspection of what was going on the streets, I designed a participatory activity aiming to bring the culture program in the 'trading' public space by using walking as a playful device.
The walk started on the top of the entrance staircase of Göta hovrätt, an old court building. Together with a group of culture enthusiasts, dressed in an emergency vest with the Österängens Konsthall's logo, we were available to appreciate the intense movement of people involved in the 'trading' street. For the activity, I proposed to the participants to infiltrate the influx of consumerist visitors and to act in a particular way in relation to them: to walk differently than they do.
To achieve this, I divided the route into three parts which, at the beginning of every one, walking instructions were given to the participants. The first third part of the route, we walked holding hands. In the second part, by avoiding stepping on sidewalk lines. And in the last one, walking backwards. At the end of the street, I offered the chance to the culture-walkers to choose one of the three walking methods, a combination of them or the creation of new ones. This opportunity was an invitation to interact with the public space on their own will. In an improvised route, we wandered through the urban furniture — such as benches, information panels, urban flowerpots,... — and trading stalls. The cultural-walkers became a peculiar community that caught the attention of visitors to the market. For a moment, we switched their interest from shopping concerns to an unexpected art intervention. They enjoyed watching us, talked to us and took pictures with us. Our walk had borne fruit. A market-visitor joined the group and followed the instructions. We took her to the Österängens Konsthall venue and introduced her to the cultural programme. The walk ended up in a circus show located outside of the contested streets.
Through our urban intervention, we reclaimed the public space as a common place for sustainable, fellow-feeling and free-of-charge activities beyond consumer impulse.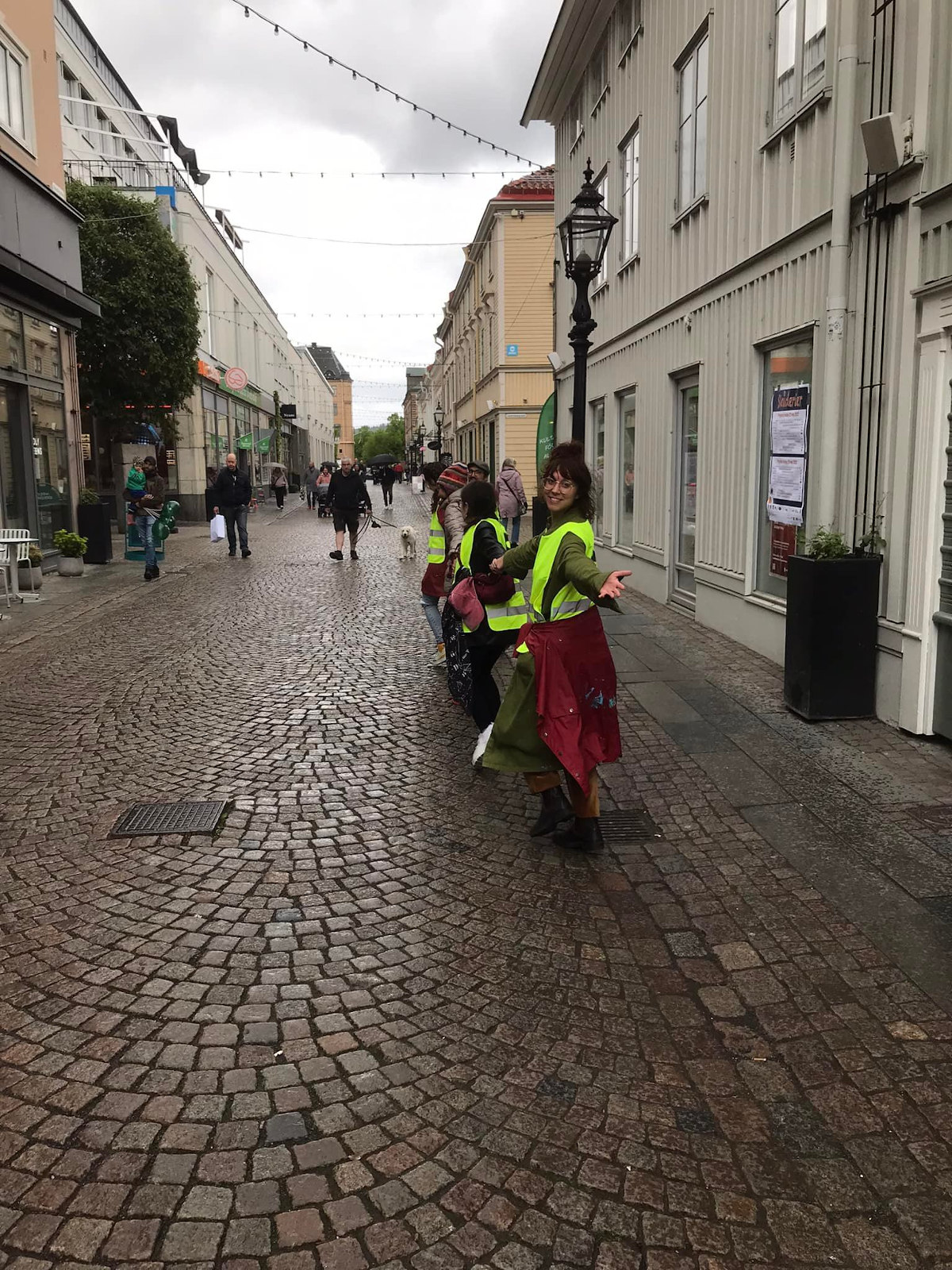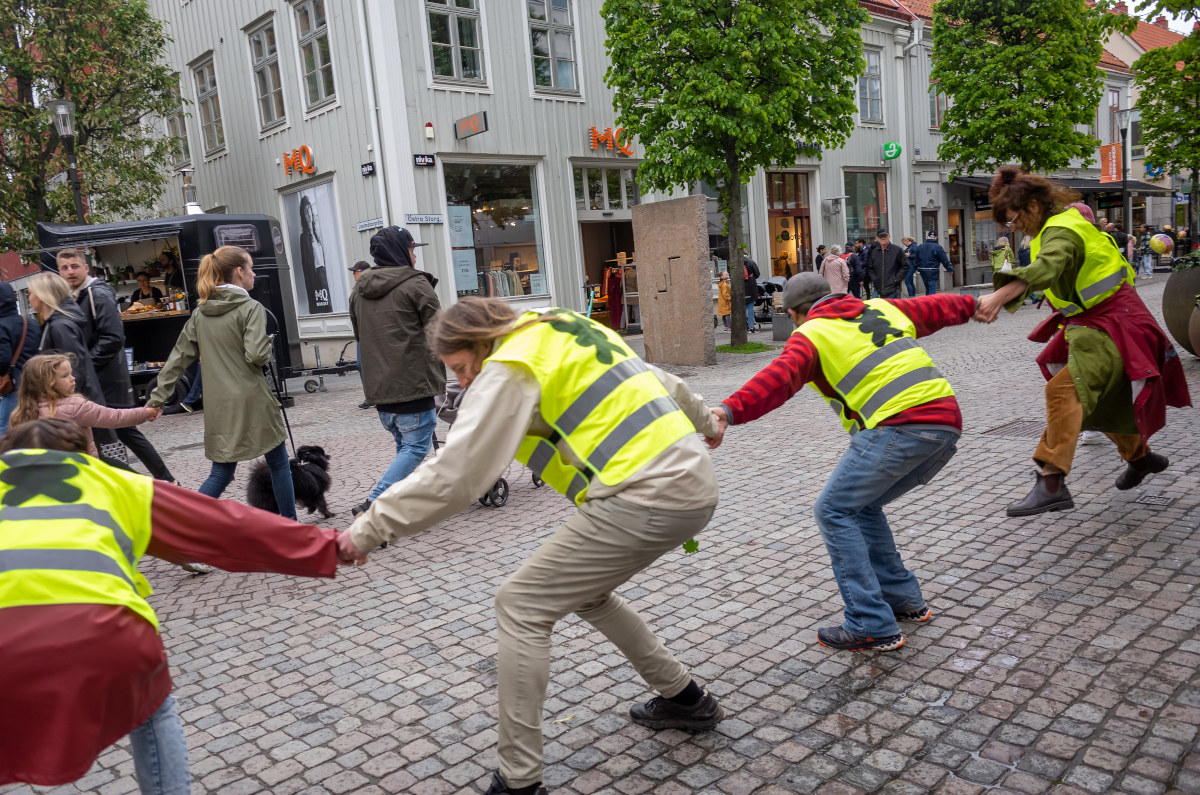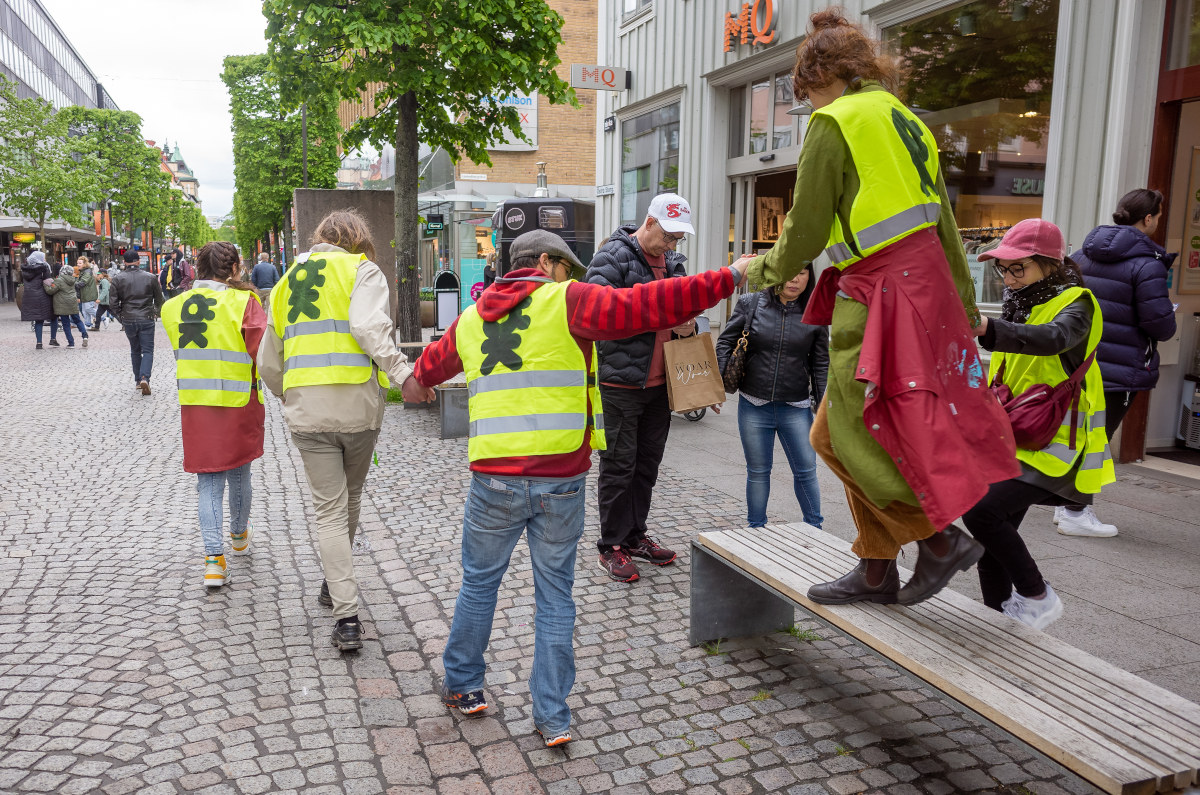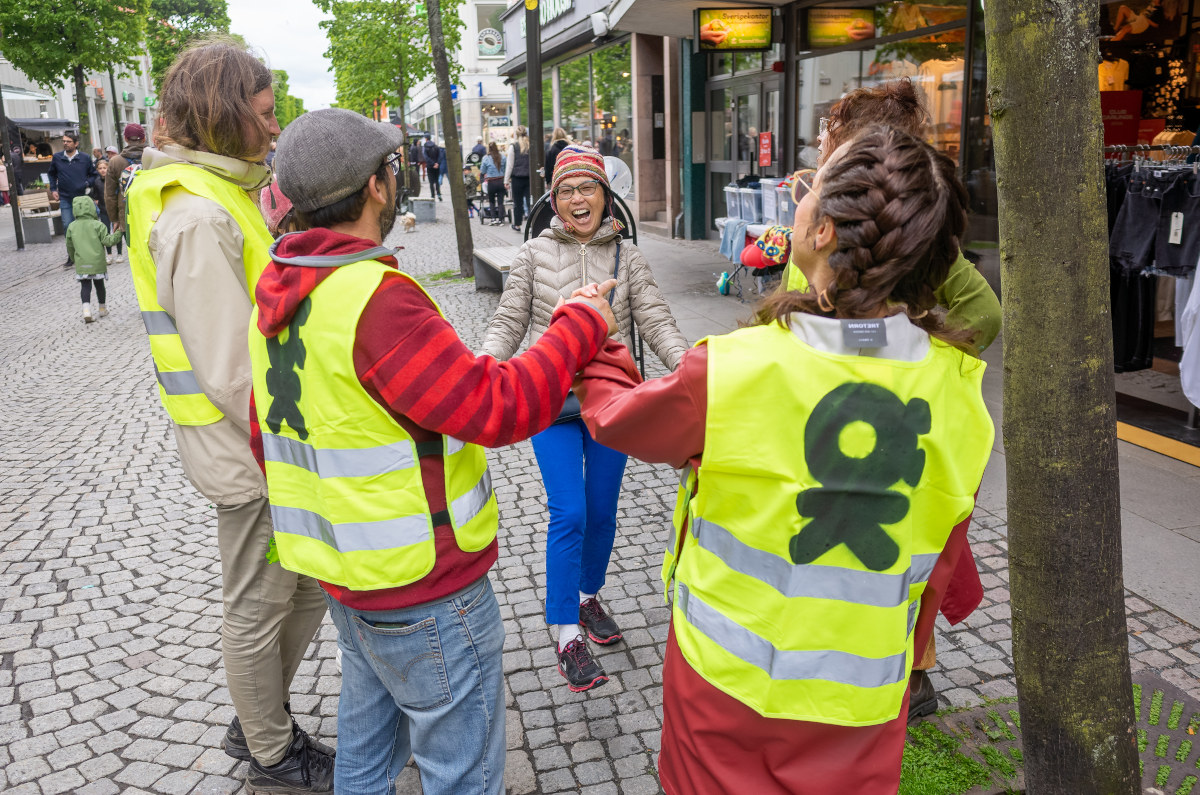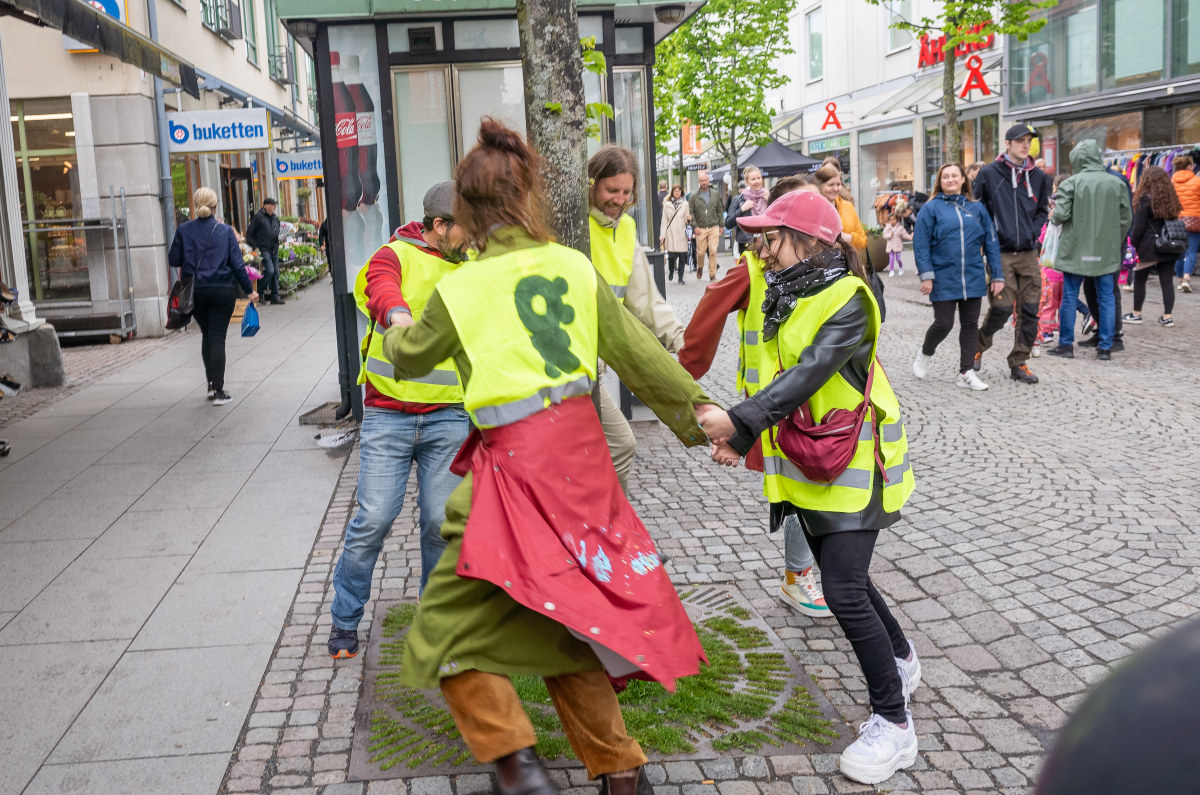 Photos & videos: Marcus Gyllborg / Österängens Konsthall
More info:
https://www.facebook.com/events/538466114332954
https://www.facebook.com/events/1140951926751179